Photo credit: Craig Mitchelldyer, AP
Hopefully Tina Kotek enjoyed her ice cream purchased for her by President Joe Biden because that seems to be the only victory for Kotek to come out of his visit to Oregon this weekend. Tough optics when you consider Oregonians are paying more now for ice creambecause of Biden's, Brown's, and Kotek's failed economic policies.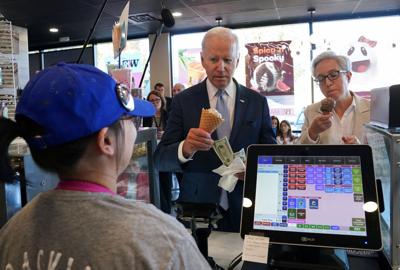 Photo credit: Kevin Lamarque
From the President's gaffes about the economy just one day after the latest consumer prices report reflected the harsh reality of still-high inflation, to his less than confident remarks on the viability of a Kotek victory this November, the visit is already proving to be fruitless for the trailing candidate.
"While Christine Drazan builds momentum across the state, Tina Kotek's favorability with Oregonians took another hit as she stood alongside the failing President who has yet to deliver relief on voters' top concerns," said RGA Spokeswoman Kaitlin Price. "As Kotek follows the Kate Brown playbook in cozying up to President Biden, Oregonians desperate for a new direction for the state once again rest assured that their vote will be cast for Drazan."